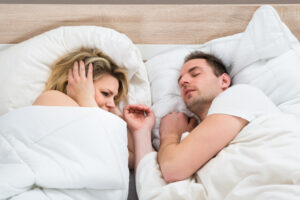 Are you suffering from sleep apnea? Is this condition something that you should be worried about? At our DFW area dental office, we are prepared to help when sleep issues affect a patient's health and well-being. We know that in some cases, people can be unaware that this condition is affecting them, or what it can do when it is not managed. Snoring is commonly associated with this condition, but not everyone has someone who can point out a snoring issue to them. What you should know is that this is just one issue of many that can alert you to the problem. Knowing those other signs to watch out for, and recognizing the risk factors of the condition, can help you avoid future problems!
Are You At Risk For Sleep Apnea?
Sleep apnea is a condition that effectively takes away a person's ability to remain at rest. Because they lose out on sustained sleep, they are robbed of the ability to complete sleep cycles and recover properly during the night. That means you can lose energy, have trouble with focus and short term memory, experience problems managing your mental and physical health, and even experience new physical health issues. There are different reasons why people might be susceptible to this problem. It can be related to your diet, your weight, or even physical characteristics.
Look Out For The Warning Signs Of Your Sleep Disorder
Snoring can be an audible warning that you are not enjoying truly restful sleep. Another sign is that you frequently appear fatigued, even on nights when you believe you remained at rest. A rise in blood pressure is another concern. If you are not sure you should be concerned about this condition, keep in mind it can be more common for those who have problems with being overweight, certain habits like alcohol use, and your family history with the condition
Using A Custom Appliance To Improve Nightly Breathing
Both CPAP machines and oral appliance therapy are used to treat people with sleep apnea. For those who find the idea of using a CPAP machine uncomfortable, an oral appliance can be a welcome alternative. This approach will see you depend on a custom guard that helps you change the position of your jaw so that your airways remain open and your breathing is not disrupted.
Talk To Your DFW Area Dentist About Treating Sleep Apnea
Through treatment for sleep apnea, we can help you correct a problem with your nightly rest that can seriously affect your health, energy levels, and mood. If you have questions about treatment, or if you want to confirm that this is a problem that affects you, please schedule an appointment with Dental Sleep Solutions of DFW by calling 903-455-0516.