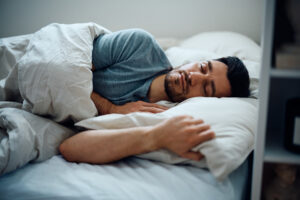 Have your loved ones mentioned your loud and concerning snoring? If so, it might be a sign that you have a common sleep disorder known as chronic obstructive sleep apnea. This condition refers to when your throat tissue becomes too soft during sleep, losing its structure. As this happens, your airway can become obstructed, preventing you from drawing a full breath. While you might think that your sleep apnea is not a serious concern, there are complications involved with this disorder.
For a helpful discussion about your health, reach out to our team at our Metroplex area oral health clinic. Our team can help you to understand your condition, while giving you tools to experience a more peaceful night of rest. If you have been holding off in seeking treatment, you could be leaving yourself exposed to serious cardiovascular concerns such as heart attack and stroke. Take the time to learn about your options so that you feel better in the morning and protect your lasting health!
What Is Chronic Obstructive Sleep Apnea?
Chronic obstructive sleep apnea is a common sleep disorder that affects your ability to breathe overnight. Sometimes, this shows as loud snoring, so it is important to discuss this symptom with your oral health provider.
When your throat softens during your deepest form of sleep, the tissue can collapse on itself, preventing you from drawing breath. These pauses can last for over a full minute, and sometimes even longer, so there are lasting health concerns associated with sleep apnea.
These patients experience higher levels of blood pressure (and lower oxygenation) than with healthy individuals, and so this can lead to severe and potentially life-threatening complications. Take your rest seriously, as people with chronic obstructive sleep apnea are at a higher risk of both stroke and heart attack.
Take Our Sleep Assessment To Determine If You Have Sleep Apnea
Since this condition can disguise itself as problem snoring, it may be difficult for you to know if the symptoms come as a result of sleep apnea. Take our helpful sleep quality assessment to work with a trusted healthcare professional in your diagnosis.
This process takes all of your risk factors into account, including weight, tiredness, and frequency of snoring. If your dentist determines that you meet the criteria for a sleep apnea diagnosis, you can discuss your options in treatment. Sometimes, a slim oral appliance that you wear during sleep is enough to relieve symptoms!
Your Sleep Apnea Provider In Greenville And McKinney, TX
For more information or to schedule an appointment, reach out to our team at Dental Sleep Solutions of Greenville and McKinney in Greenville, TX at (903)455-0516. We can help you to understand your chronic obstructive sleep apnea!