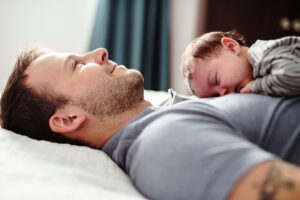 If you struggle with loud and intrusive snoring, it may be a result of a common sleep disorder known as chronic obstructive sleep apnea. During your nightly rest, the tissue of your throat can collapse on itself, blocking your airway. This condition can prevent you from receiving oxygen from over a full minute each time, so there are serious consequences to ignoring your sleep apnea.
At our dental offices in Greenville and McKinney, TX, we can help you to find a treatment solution that is comfortable for you. One of these methods is through a non-surgical oral appliance, which gently repositions your jaw while you sleep. With the help of a slight mouthguard, you can take positive steps to improve your lasting health. Talk with our team about your condition and see if an oral appliance is the next step in your treatment for chronic obstructive sleep apnea!
Chronic Obstructive Sleep Apnea Can Contribute to Heart Disease And Stroke
If you think that your chronic obstructive sleep apnea is a minor instance of problem snoring, take the time to speak with a dental provider that specializes in sleep science. By learning a little about your condition, you will begin to understand the wide-reaching implications of sleep apnea. Your sleep disorder may be more of an issue than you realize!
During your overnight rest, your throat tissue can become a little too soft to hold its normal shape. This means that your airway can become blocked by your own body. When this happens, you can go over a minute without drawing a full breath, and over time, this can be harmful to your health.
Patients with chronic obstructive sleep apnea can experience higher blood pressure (hypertension) that increases your likelihood of certain conditions. You may be more likely to suffer a heart attack or stroke, so be sure that you make the effort in finding a treatment.
Discover The Advantages Of Non-Surgical Care For Your Sleep Apnea
When you need treatment for your obstructive sleep apnea, talk with your dentist about the possibility of an oral appliance. This method gently moves your jaw forward, preventing your throat tissue from blocking your airway.
Through the use of a slim BPA-free acrylic appliance, you can work to keep your breath consistent through the night. Simply wear your new comfortable oral appliance while you sleep, and feel the benefits of a full night of sleep.
Talk To Your DFW Dentist About Sleep Apnea Treatment
If you have been struggling with your sleep, it is time to speak with a trusted name in oral health. For more information on how we help you treat your sleep apnea, call us at Dental Sleep Solutions of Greenville and McKinney in Greenville, TX at (903)455-0516.