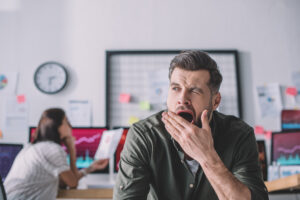 If you find that you are tired before noon, your poor sleep can really impact your day. Without a full night of deep, uninterrupted rest, you could experience serious brain fog. This also might be a sign of something a little more serious, such as a common sleep disorder known as obstructive sleep apnea. If you have trouble getting that full night of sleep due to your problem snoring, it might actually be a sign of apnea.
Stop wrestling with your rest and reach out to a professional. With our helpful team of apnea experts at our sleep clinic in Greenville, TX, you can take positive steps to improve the quality of your nightly sleep. Schedule an appointment to discuss your condition and see if sleep apnea is what has been causing your troubles. If so, we can help you to find a course of treatment that works for you, helping you to make an effort in receiving better sleep. Feel better and stay healthier with treatment for your sleep apnea!
Your Poor Sleep Could Be Harmful To Your Health
Have your loved ones mentioned your loud or aggressive snoring? If you are starting to grow tired of their comments, talk to your oral health provider about whether you have a medical condition that is causing your symptoms. You may have a common sleep disorder where your own body blocks your airway during sleep. This condition is called chronic obstructive sleep apnea, and it can take a toll on your daily life.
Even beyond the struggles of a daily experience with poor sleep, apnea patients are at a significantly higher risk of cardiovascular problems over time. These include life-threatening conditions such as heart attack and stroke. Your body needs a consistent flow of oxygen for the health of your heart and your brain, so take some time to learn about your options in treatment.
Discover A Simple And Quiet Form Of Treatment
If your oral health provider gives you a diagnosis of obstructive sleep apnea, it is time to discuss your possibilities in treatment. Be sure to be open and honest with your healthcare professional so that you find a solution that works for you. For some people, the loud and intrusive sounds of a CPAP machine make it difficult to sleep. If you want a more peaceful night of sleep with a quiet form of apnea treatment, talk to your provider about an oral appliance.
Learn More About Sleep Apnea Treatment With A Trusted Team
When it is time to discuss treatment options for sleep apnea, talk to our team of oral health experts. To find out more about oral appliance-based therapy, give us a call at Dental Sleep Solutions of Greenville and McKinney in Greenville, TX at (903)455-0516.